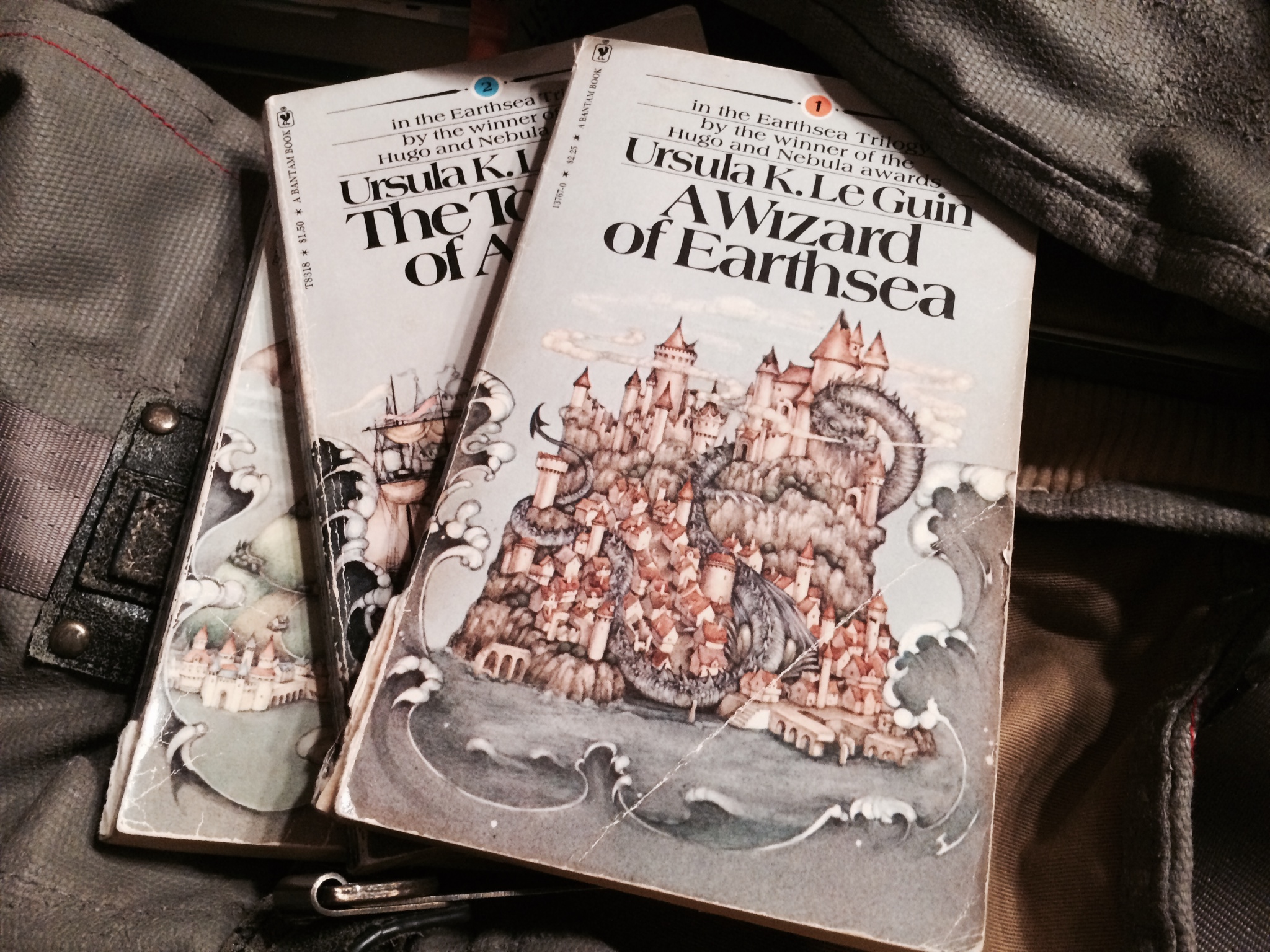 A few weeks go I was at my wife's family's cabin and I was lurking around in a bedroom browsing my in-laws' old bookshelf.  Hidden in the midst of a notable collection of Louis L'Amour novels, with an old framed photograph sitting on the shelf in front of them, I discovered copies of the original Earthsea Trilogy by Ursula LeGuin: A Wizard of Earthsea, The Tombs of Atuan, and The Farthest Shore.
I believe I have read the first chapter of A Wizard of Earthsea at least three or four times over the course of my life (the first time was probably when I was about 10 years old.)  For whatever reasons it never took and I never continued and finished, but it has always been on my list to get back to sometime (right up there with Moby Dick, Swann's Way, and the Old Testament.) So, it appeared the time had finally come for this book, and I spent a good chunk of my cabin weekend reading that old copy of A Wizard of Earthsea.  As the time came to leave the cabin, I still had about 15 pages left and the story was completely unresolved.  What else could I do but steal the book and take it home? And then since I was already stealing, I might as well steal the whole trilogy.
Although I had various other reading plans, I put them aside to focus on this trilogy.  And now that I've finished, I am having a hard time finding anything else from those other reading plans that engages me and forces me to make reading a priority like these books did.
So, rather than a review (because I'm [bored with book reviews](http://kidlit.froztfreez.com/bored-with-book-reviews/ ""Bored with Book Reviews"")), here are five things I noticed and learned from these books, mostly from a would-be writer's perspective:
Footnotes
---
Posted:
Last Updated:
Previous: ''''
---