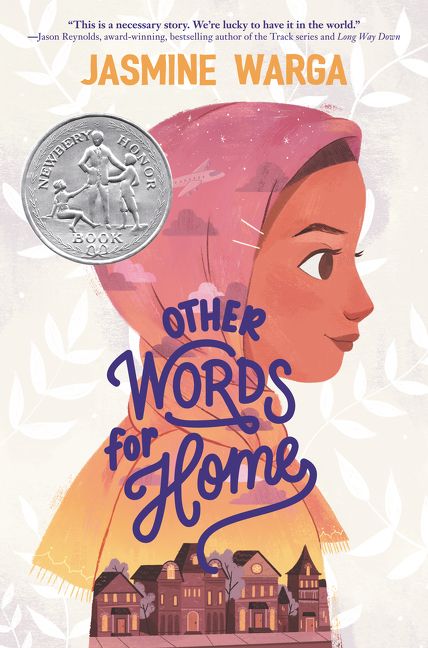 I published a review of Other Words for Home by Jasmine Warga on Granite Media and also posted it on Goodreads.
I really wanted to put screenshots of this entire poem in the review, but couldn't justify it on Granite Media. But here, I get to do whatever I want, so…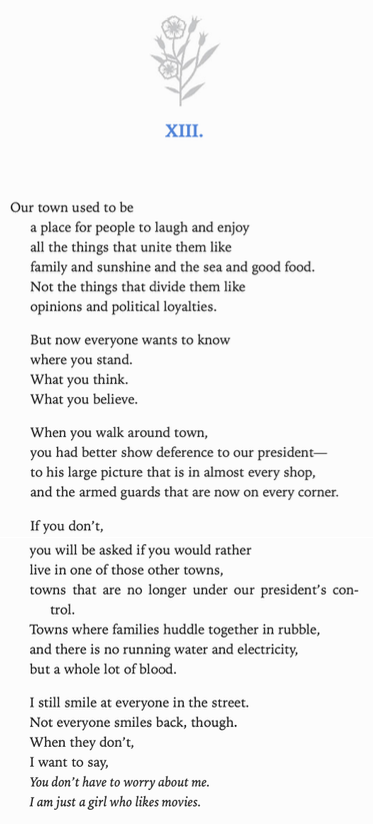 I still smile at everyone in the street. Not everyone smiles back, though. When they don't, I want to say, 'You don't have to worry about me. I am just a girl who likes movies.' -–Jude, in Jasmine Warga's Other Words for Home
This is the engaging story of Jude, a girl who lives in a ocean-side town in Syria, where her father runs a convenience store for the tourists who visit the nearby beach resorts. She loves to watch old (1990s) American movies and sing along to Whitney Houston songs, and wants to be an actress. As tensions rise between the Syrian government and young demonstrators pushing for democracy, including Jude's teenage brother Issa, Jude and her mother travel to visit Jude's uncle in America. As the situation in Syria continues to deteriorate they are effectively refugees in America, and Jude must navigate American middle school while not knowing what is happening to her brother back home.
Jude is a character that all readers will be able to identify with, and Warga does a great service in showing Jude's personality and the details of her family and life in Syria before the political unrest and violence breaks out. Crafted in easy-flowing free verse, this is a story that will help refugees, immigrants, English language learners, and really any young person who feels like they don't quite fit in to feel seen, and it will build understanding and empathy in readers as it puts an individual face and experience on a terrible individual situation that can be hard to imagine or understand. This would make an excellent classroom read, and I highly recommend it for all young readers and for inclusion in every elementary and middle school library.
Reviewed by Joshua Whiting, Library Media Program, Educational Technology Department Rating: ★★★★★ (5 stars) Interest Level: Grades 4-8
Other Words for Home Written by Jasmine Warga Balzer + Bray, an imprint of HarperCollinsPublishers 342 pages Release Date: May 28, 2019 ISBN: 9780062747808
Tags: 2019 Children's Fiction, Cincinnati Fiction, Contemporary Fiction, Emigration Fiction, Family Fiction, Government Resistance Fiction, Immigrants Fiction, Jasmine Warga, Joshua Whiting, Movies Fiction, Moving Fiction, Muslim Americans Fiction, Muslims Fiction, Novels in Verse, Ohio Fiction, Political Unrest Fiction, Realistic Fiction, Refugees Fiction, Syria Fiction, Syrian Americans Fiction
---
Posted:
Last Updated:
Places:
---