'Album Released' notifications might be my very favorite phone notifications.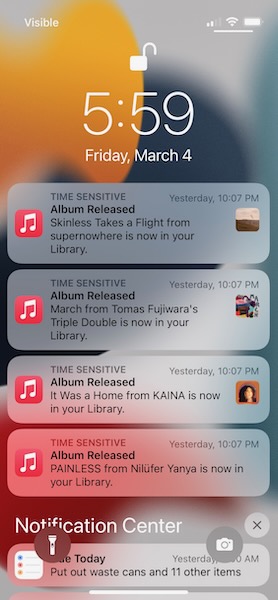 I woke up last Friday morning to see these notifications pop in that several anticipated albums had been released, and had thus automatically added themselves to my music library/streaming service of choice.
I was excited to get listening, but work turned out to be way too hectic for headphones that day, and so I only got partway through one album on my commute to and from work. And as it turns out I have basically just listened to that one album, PAINLESS, over and over again since then, intermixed with older tracks from the same artist, Nilüfer Yanya. I'm listening to it again right now.
Not sure what to say about this album, but I've added it to my Favorite Music of 2022 collection. Might have to get a physical copy. Might have to get tickets for her show in Salt Lake later this year, if I decide I am going to do things like go out to events again.
---
Posted:
Last Updated:
Places:
Series + Sources:
---